Our sailboat is a German-built Bavaria Cruiser 31, 2008, named Argo.  We are the third owner of this boat. She was bought from a gentleman in Oslo.  With some help from a friend we got her sailed about 1100 nautical miles from the slip Oslo to our slip in Sørfold.
Bavaria Cruiser 31 specs: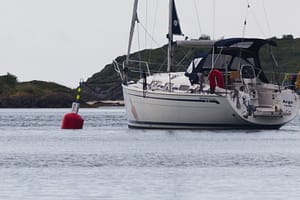 LOA:                32,08 ft / 9,78 meter
Beam:             11,08 ft / 3.38 meters
Draft:             6,14 ft / 1,87 meters
Displacement: 10 340 lb / 4690 kilos
The name Argo
We did a lot of thinking about what to call our baby. All of a sudden the story about Argo came up; a name from the Greek mythology.  The original story contains protective greek goddesses and magical material for building ships.  Both the protective goddesses and magical material appealed to us…… this name might help novises like us keeping safe at sea…. We didn't know anything about sailing at the time we bought our dreamboat.
The engine
The engine on board Argo is a Vovo Penta D1-30 from 2014
Volvo Penta 130S sail drive with a fixed 3 blade propeller (3x17x12) Here is a little more about propellers and what is hidden behind the numbers.Click here
From Wikipedia:
Argo was constructed by the shipwright Argus, and its crew were specially protected by the goddess Hera. The best source for the myth is the Argonautica by Apollonius Rhodius. According to a variety of sources of the legend, Argo was said to have been planned or constructed with the help of Athena. According to certain sources, Argo was the first ship to sail the seas. It was Athena who taught Tiphys to attach the sails to the mast, as he was the steersman and would need an absolute knowledge of the workings of the ship.[1]According to other legends, she contained in her prow a magical piece of timber from the sacred forest of Dodona, which could speak and render prophecies.
After her successful journey, Argo was consecrated to Poseidon in the Isthmus of Corinth. She was then translated into the sky and turned into the constellation Argo Navis.[2]
Several authors of antiquity (Apollonius Rhodius, Pliny,[3] Philostephanus) discussed the hypothetical shape of the ship. Generally she was imagined like a Greek warship, a galley, and authors hypothesized that she was the first ship of this type that had gone out on a high-sea voyage.[2]
Click here https://www.sailingargo.no/videos/to see the vlog from the beginning